Looking for a winning product? Look no further than our website! We have an extensive database of products that have been proven to be winners time and time again. Simply enter your criteria and we'll do the rest.
Websites that talk about Dropshipping winning products are a dime a dozen. But finding a website that collects all of them in one place is difficult. Even more difficult is finding a website that does this and also offers the cheapest prices. That's where we come in. We offer a one-stop shop for all your needs when it comes to winning products. And because we know that price is important to you we make sure to offer the lowest prices around.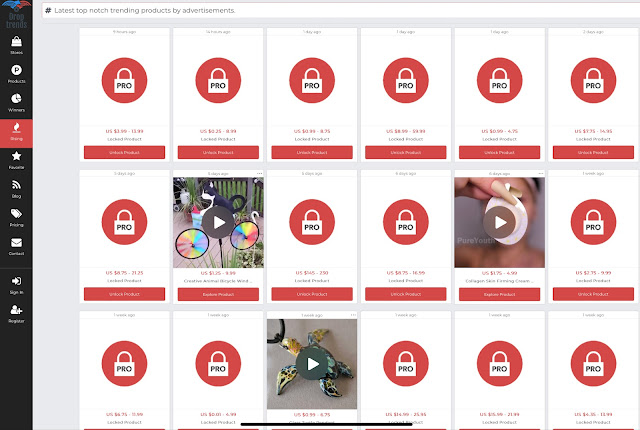 Why Should You Give This A Try Droptrends?
It helps you find and research competitor campaigns in the niche you are analyzing.
Droptrends boasts more than 80 million ads in many different languages in 198 countries from different advertisers around the world. It has a huge advertising database.
High search filter, which allows you to target your competitor campaigns with the highest level of accuracy
It is used to explore Facebook and Instagram ads. It also has smart advanced search filters to help you find ad text, comments, and landing page URLs, along with ad types, and daily likes from competitors.
What droptrends can do for you?
Comprehensive data from social media sites put you in control of the fastest developing advertising platforms on the internet.
Global coverage lets you assess the world's trends without compromise. Exhaustive search and filter features will uncover the ads that you and your company need to know about, and the simple interface will help you discover them with ease.
The rising box is a great way to find out what products will be trending soon. By clicking on the button you can see a list of products that are popular and will likely continue to be popular in the future. This is a great way to stay ahead of the curve and be one of the first to buy or use a new product.
The winner box is a great way to collect products that are trending at this time. By clicking on the button you can see a list of items that are popular with other users. This is a great way to get an idea of what is popular and may be worth purchasing.
The store box is a collection from more than two million stores around the world so you can easily make comparisons. You can use it to compare the prices of products and even find the best deals.
If you prefer to search manually, the site offers you the products box of millions of products that can be sold online with accurate details about each product such as its price, web pages that sell it, the estimated profit from its sale, images that can be used to promote it, advertisements designed for it, and graphic analysis of the product that shows all the details related to it.