If you've worked with Shopify in the past, you've asked the question, "Which Shopify apps are the best?"
After all, the Shopify App Store is packed full of useful tools for companies that want to increase sales. Whether you're looking at a solution like Printful, Yotpo, Sumo, or something else entirely, the shopify app store comes with countless tools for business owners like you who want to drive up your conversion rate.
As you learn from on our Shopify reviews, this platform has consistently squashed competition because of a modern interface, beautiful support options and one of the best app stores on the market. In fact, there's no comparison, Shopify apps are far easier to install and use than other platforms.
So, in an effort to cut down your research, we want to review the best paid and free apps in the Shopify store. We sprinkled in apps from all categories, ranging from marketing to sales, social media to shipping, and customer service to reporting.
Just before you start though, you might want to take a look at our Shopify reviews and Shopify Pricing guide.
Best Shopify Apps: 1. Printful
Pricing: No monthly or startup fees
Printful is one of the leading applications in the print-on-demand marketplace. If you've always wanted to run your own clothing company, but you don't have the time to create your own products from scratch, you can use print-on-demand to create custom clothing for your audience instantly.
Printful offers easy print-on-demand dropshipping, as well as a fulfillment warehouse, and access to your own order-creation warehouse. Additionally, to make your life a little easier, Printful also integrates with leading ecommerce tools like Shopify.
You can even add your Printful technology into your business if you're shopping through online marketplaces like Amazon, eBay or Etsy. It's a great option for creative people who want to make selling clothing products online easier.
Pricing: Free, plus paid options for additional features
HubSpot CRM is everything you need to organize, track, and nurture your leads and customers. And the best part is that it's 100% free, forever.
The HubSpot Shopify app syncs your online store data into HubSpot and uses it to personalize and automate your marketing campaigns. HubSpot allows you to step up your sales and marketing strategy by sending emails to visitors who've abandoned their cart items on your site so you can nurture them toward a purchase.
HubSpot CRM tracks all of your interactions with your customers and all the data associated automatically gets stored in a tidy timeline. This will help you better tailor your approach when reaching out to prospects.
Best Shopify Apps: 3. Oberlo
Pricing: Starting at $4.90 per month
Oberlo is a dropshipper's dream because it imports large lists of products from AliExpress, and you don't have to worry about shipping, storage or packaging. In addition, your inventory counts and prices are constantly updated. And even better- Oberlo app users have exclusive access to the Oberlo Supply marketplace that offers a host of advantages such as hand-picked suppliers, bulk ordering and faster shipping times.
Don't forget to read our Oberlo review.
Update: Shopify now offers Oberlo as an embedded app within the platform.
Best Shopify Apps: 4. SendinBlue
Pricing: Free, plus paid options for additional features
Sendinblue is another sensational email marketing app specifically designed for Shopify. The official plugin is powerful, easy-to-use, and brimming with extra features to explore. You can use this plugin to deploy powerful SMS and email campaigns, improve deliverability rates, and track metrics like open, click, and delivery too.
One of the best things about Sendinblue is that it makes email marketing through Shopify as simple as possible. You can connect your Shopify list with several lists in your Sendinblue account, determining exactly what kind of content you send to each potential customer. You can even use this tool to send confirmation emails whenever a customer buys something new.
Marketing and transactional text messages are also available from SendinBlue. That means that you can link a text messaging strategy to your store's back office and make sure you're connecting with clients on all of the right channels. Like many email marketing tools, you'll also have access to real-time and historical email metrics.
The more you use SendinBlue, the more you'll learn about your email marketing strategies, and your customers. What's more, because Sendinblue gives you access to SMS as well, it's a great way to access a more omnichannel strategy for connecting with your target audience.
Don't forget to read our SendinBlue review and SendinBlue pricing guide.
Best Shopify Apps: 5. Spocket
Pricing: Free plan available, plus 7-day free trial on the premium paid plans ($49/month and $99/month)
Here's another helpful app for dropshippers. Spocket essentially helps you identify the best US and EU products to sell, plus leverage its expansive marketplace to link up with suppliers who are positioned closest to your target market. Consequently, you'll be able to maintain a favorable shipping delivery record of 2-5 days. This platform also comes with a large database that makes the product searching process conveniently easily. In addition to that, you can take advantage of Spocket to automate your Shopify dropshipping business.
Don't forget to read our Spocket review.
Pricing: Starting at $99 per month
QuickBooks Commerce (formerly TradeGecko) is known to make your inventory much easier to manage, so this app syncs TradeGecko with Shopify to monitor inventory and stock levels. All the data is provided in real time.
Best Shopify Apps: 7. Klaviyo
Pricing: Free to install, plus paid options for additional features
When it comes to ramping up your opportunities for online sales, there are few tools more useful than email marketing. While there are plenty of tools out there that can help with your email strategy, one of the most valuable, and reputable, is Klaviyo.
Klaviyo offers one of the most advanced email marketing experiences for any online store. The thing that really makes this Shopify app stand out from the crowd, is the fact that it comes with endless tools for reporting and analytics. With Klaviyo, you can figure out exactly which parts of your email campaign are delivering the best results.
Klaviyo also has the simplicity that businesses need to enhance and update their email strategy. Klaviyo delivers a drag and drop email composer that's easy to use, along with tons of email templates for making your campaigns look incredible. There's also a range of automation tools for follow up and abandoned cart targeting.
Klaviyo can help you to make personalized product recommendations, test various types of campaign against each other, and segment your lists more effectively too. What's more, you can sync email lists to Facebook custom audiences! This is by far one of the most advanced email marketing apps for Shopify but bear in mind that it does come with quite a significant learning curve.
Don't forget to ckeck out our Klaviyo review.
Pricing: Free
If you'd like to add simple product review areas for customers to fill out, Product Reviews is the solution for you. It's completely free, and you get features such as bulk filtering, exporting, importing, SEO friendly review scores and more.
Pricing: Starting at $9 per month
ShipStation lets you consolidate orders from multiple channels, print shipping labels and gain the best USPS shipping rates possible. You also get a mobile app for managing the whole process.
Don't forget to ckeck out our ShipStation review.
Best Shopify Apps: 10. Kiwi Sizing
Pricing: Free Plan, or Premium Plans with Views per Month Pricing (Starting from $7.49)
If you're selling apparel on your Shopify store, Kiwi Sizing might be an absolute must-have app for you. Kiwi improves the shopping experience provided by clothing stores by adding customizable sizing charts, fit recommenders, and much more to your store.
The app comes with an apparel size recommender that calculates the best fit based on age, weight, and height. Your customers can also choose whether they prefer a tight, loose, or regular fit and get a size recommendation based on those details.
You can also create custom-size recommenders for any product using your own questions. Then, once a customer's answered these questions, they automatically get sizing recommendations for all your products!
The app also allows you to create clear, custom-sized charts for your clothing and comes with analytics showcasing how customers use your size charts and recommenders.
Pricing: There's a free plan
We don't need to tell you, the more a customer engages with your brand, the better there's a chance of them becoming a loyal follower of yours. This is where having an enticing rewards program comes into its own.
Luckily for you, the Smile.io: Rewards & Loyalty plugin offers its users three styles of rewards program to choose from:
The loyalty points program
The referral program
The VIP program
Any of these options provide customers with an avenue to engage with your brand. Not to mention, they also encourage shoppers to spread the word about your store.
Btw, did you check my full Shopify review?
Best Shopify Apps: 12. Doofinder
Pricing: Free for stores with less than 1000 Requests (Subscriptions starts at 29€)
Doofinder is an excellent Shopify search plugin which brings impressive, incredibly fast and relevant search results on your ecommerce. With an intelligent and customizable algorithm that learns from user click behavior to optimize and position the search results automatically – no manual optimization needed! Get access to all features within your 30-day free trial and boost your conversion rate! Mobile optimization, business rules and ranking options, full customizable and 100% scalability are just a few of the advantages that Doofinder can bring to your Shopify Store.
Best Shopify Apps: 13. Firepush
Pricing: Free up to 1000 web pushes
Firepush describes itself as the 'all-in-one marketing automation app for Shopify stores' This plugin is an inexpensive solution for anyone looking to centralize their omnichannel marketing campaigns. Firepush provides everything you need to monitor and automate your web push, email, Facebook Messenger, and SMS remarketing campaigns. Not only that but you'll also get access to advanced reporting tools to help you refine and improve your marketing efforts. From automating your welcome messages and abandoned cart recovery emails to requesting reviews from customers – Frirepush makes marketing easy.
Don't forget to read our Firepush review.
Best Shopify Apps: 14. Omnisend
Pricing: Free for Basic Email Marketing, Standard Plan Starting at $16 per month
Omnisend is the answer for those who want to go further than basic email marketing for their ecommerce store. Offering marketing automation with omnichannel features, Omnisend helps you create a better relationship with your customers through relevant messaging.
Unlike other marketing automation platforms, Omnisend lets you add several channels into the same automation workflow, so you can reach your customers on a variety of channels with a unified message, personalized just for them.
Great features don't end there: Omnisend offers list building resources, templates, retargeting ads, segmentation for targeting, and much more. Nearly 3000 5-star reviews on Shopify don't lie- Omnisend is a winner.
Omnisend has a free plan for basic email marketing needs, and paid plans starting out at $16 per month. You can try any Omnisend paid plan for a 14-day free trial.
Best Shopify Apps: 15. Shopify POS
Pricing: Free to $40 per month
If you own a physical store, or you'd like to sell product while on the move, the Shopify POS app provides a beautiful mobile app and a free card reader. It sends email receipts, accepts payments and tracks everything from orders to customers.
Don't forget to read our Shopify POS review.
Pricing: Free ($24 per month for the next plan up)
Create banners, announcement bars and popups with the Privy app. It all ties into your cart abandonment and exit intent strategy, and you can integrate with platforms like Mailchimp, Soundest and Adroll.
Dont forget to read our Privy review.
Best Shopify Apps: 17. Impact
Pricing: Reach out to Impact for Pricing Details
Traditional advertising has slowly lost its effectiveness. Today we're bombarded left and right with so many promotions that we've learned to tune out brand messaging as a society. The Shopify Plus certified Impact app aims to tackle this problem.
This tool helps you find and recruit new ad partners automatically, including influencers, affiliates, mobile apps, and more. They promote and sell your products, and you pay a commission only when the partner's brought in business for you.
Impact lets you manage the partnership lifecycle from discovery and recruitment to tracking and commissioning. You can keep partners engaged with proactive messaging and automated workflows so they stay informed at all times.
The app also comes with turnkey integration, so you can get started without delay. Request a demo of the Shopify Impact App here!
Best Shopify Apps: 18. Parcelify
Pricing: $7.99 per month, 30-day free trial
It doesn't matter whether you're setting up shipping rates for local or international deliveries because the Parcelify app allows for custom shipping rates. For example, you could specify that local customers get cheaper shipping, while international folks have to pay a little more.
Pricing: $24.95 per month
The whole point of the Pre-Order Manager app is to accept pre-orders from your customers, all without having to pay for the app. You can enable this for individual products and even limit the number of pre-orders that come in for each of your products.
Pricing: $8.95 per month
Whether you're offering a free gift, free shipping or any other type of promotion, you should consider utilizing this free promotional bar that pops up when someone is browsing your site. Adding links and buttons is possible with Free Shipping and Hello Bar, and you can change around the location, color and overall style of your bar.
Best Shopify Apps: 21. Sumo
Pricing: Free trial followed by $49 per month
Finally, if you're looking for a state-of-the-art Shopify app that will help you to accelerate your sales strategy instantly, then Sumo could be just the thing. This marketing and sales optimization plugin for Shopify helps you to reduce cart abandonment with well-timed incentives, while increasing your average order value at the same with thrilling deals.
You can use Sumo to grow your email list and find more leads to nurture over time. Additionally, Sumo comes with dozens of fantastic extra features to transform the way that you sell, including free customer support from a dedicated customer experience team.
To make your Shopify selling strategy even better, Sumo is compliant with GDPR, so you don't have to worry about regulatory issues. Additionally, the system keeps up with the SEO guidelines from Google, to improve your chances of ranking.
Pricing: Free to $299 per month
Reviews+Wishlist+Loyalty +more boosts social sharing, encourages reviews and rewards customers for taking action on your site. For example, the system prompts buyers to make reviews and share their purchases with friends.
Best Shopify Apps: 23. Yotpo
Pricing: Free to use forever!
Yotpo is a unique Shopify app that's all about building your social proof and reputation online. One of the best ways to convince your audience to buy from you these days is to show them that other customers have tested and fallen in love with your products. Yotpo allows you to do that by giving you access to reviews and ratings.
With Yotpo, you can collect product reviews, site reviews, photo ratings, and more, using an on-site widget or emails. Showcasing the reviews on your website means that you can increase traffic and sales instantly. Additionally, your Yotpo solution installs automatically.
Set up your device with a single click and import any existing reviews that you already have for your site into your interface. It's an easy to use tool that's sure to make your website stand out online.
Although the marketing world has evolved drastically over the years, bringing in new strategies like influencer and video marketing, word of mouth is still the best way to gain conversions. Your customers still trust the opinions of their friends and relatives more than anything they hear from you. That's why it's so crucial to make sure that you're taking advantage of referrals.
With Referral Candy, you can reward your customers for bringing new clients back to your website with everything from special gifts to cash and coupons. You can also track your referrals, keep an eye on your sales, and adjust everything to suit the look and feel of your brand.
Referral Candy is currently used by more than 30,000 stores online, and it's one of the beset tools online for tapping into the benefits of word of mouth marketing.
Best Shopify Apps: 25. Instafeed
Pricing: Free plan available
If your products make for quality Instagram posts, there's no reason you shouldn't be showing an Instagram gallery on your Shopify store. Instafeed app lets you select how many photos to put in the live feed, engaging more customers and showing them you have an Instagram page.
Pricing: Free, Standard Plan ($9 per month), Pro Plan ($99 per month)
Vanga is an AI-fuelled, automated upsells assistant app. It's explicitly designed to help you maximize each order customers make from your store.
The app works on autopilot, using an AI-driven algorithm that studies your orders and traffic to optimize your upsell strategy.
Here's how it works:
When a customer makes an order, Vanga displays post-purchase one-click upsells to encourage them to spend more. The products shown are based on what your customer likes, ensuring relevant product recommendations and increasing the likelihood of scoring an additional sale.
The app automates upsells across your entire store catalog. Each product triggers two post-purchase upsell options. It also comes with built-in automatic A/B testing and enables you to offer discounts on your upsells.
All this is done on your behalf, so you don't have to manually create and monitor average order values. Sounds pretty good, doesn't it? What's more, Vanga offers a free plan that includes $1000 in upselling credit and a further $100 in upsell credit each month after that! Once you start generating $4000 from Vanga upsells, you'll either have to pause your upsell strategy or upgrade to a paid plan.
Pricing: Free plan available
We recommend installing the Intuit app if that's the software you use for your bookkeeping. It lets you export orders directly into QuickBooks, and you receive some seamless reporting to view with the click of a button.
Best Shopify Apps: 28. TRUST
Pricing: Free plan available
Sometimes you have to pay for security and trust seals to make your customers feel confident about shopping at your site. TRUST gives you plenty of seals for free, including a PCI Compliance Seal, SSL Seal, Secure Architecture Seal, and Money Back Guarantee Seal.
Pricing: Free to install
ShipMonk (read our ShipMonk review) provides a powerful order fulfillment service that enables eCommerce entrepreneurs to adopt a more proactive attitude towards shipping and fulfillment.
'How?!' we hear you cry.
Well, this software permits users to track their SKUs across a plethora of sales channels. You can also group together infinite product combinations, so you can make edits to your products without having to worry about the effect it'll have on:
Tracking
Stock levels
Order fulfillment
How clever is that?!
Pricing: Starting at $200 a month
Return Rabbit is a one-stop solution for return and exchange management. It provides a customizable user interface where customers can access and manage their self-service returns.
First, create a unique brand page with your choice of logo, colors, and imagery. Then, set rules to automate your returns and exchange processes.
Return Rabbit's best feature is that every time a customer uses your return portal, you receive critical data concerning return reasons and product feedback. You're better positioned to make the necessary tweaks to lower your return rate and optimize your products with this info to hand. Also, using Return Rabbit's analytics, you can see how returns and exchanges affect your revenue, product performance data, and more.
Using Return Rabbit is also an opportunity to leverage customer buying behavior. For example, you can push exchanges over returns by providing product recommendations and incentives based on user preferences and shopping history.
Lastly, Return Rabbit is packed with shipping, logistics, and customer experience integrations to make your returns process even smoother – and Return Rabbit will even set these integrations up for you!
You get 500 monthly returns, return policy customization, and a white-labeled user dashboard on the basic plan. Not to mention reporting, analytics, and integrations. Then with higher pricing tiers ($400+ a month), you unlock product recommendations, exchange incentives, and dedicated customer support.
Best Shopify Apps: 31. Parrotmob
Pricing: Free to install, plus paid options for additional features
When it comes to ramping up your opportunities for online sales, there are few tools more useful than SMS marketing. While there are plenty of tools out there that can help with your SMS strategy, one of the most valuable is Parrotmob.
Parrotmob offers one of the most intuitive SMS marketing experiences for any online store. The thing that really makes this Shopify app stand out from the crowd, is the fact that it comes with simple tools to help you quickly build a list of text message subscribers and start building a relationship with them. It's marries a simple CRM with rich image-based text messaging.
Parrotmob also has the simplicity that businesses need to succeed with SMS. Parrotmob delivers a simple text message composer that's easy to use. There's also a range of automation tools for nurturing leads and abandoned cart targeting. Last, but not least, the Parrotmob team helps you stay compliant and avoid annoying your customers with texting.
Pricing: Free
If your product needs to be personalized in any way, or if you have lots of product variants, we recommend checking out the free Infinite Options app. You receive an unlimited number of product options, such as engraving, monogramming, radio boxes, dropdown menus and more.
Pricing: From $5.99 per month
Most smaller stores don't need a complicated restocking tool. So the Low Stock Alert app sends you email notifications when an item is low or out of stock. You can import and export CSV, while also looking at a full grid with stock levels.
Pricing: Free Trial (Starting at $14.99 per month)
Here's another option for managing your inventory. The main difference is that the Restocked Alerts app notifies customers when an item is back in stock. Therefore, you can improve your sales through customers who showed interest but missed out on full shelves.
Pricing: Free Trial (Starting at $10 per month)
Many businesses only sell on Amazon. But if you're thinking of also opening a Shopify store, the ByteStand app is the way to do it. Capture everything from images to complete product listings, and watch as one button populates the Shopify store with all items in your Amazon shop.
Best Shopify Apps: 35. SEO Manager
Pricing: Starting at $20 per month
From managing 404 errors to templating titles, the SEO Manager app launches your SEO options to a new level. Whether it's Google, Bing or Yahoo, features like SEO scanning, suggestions, advanced meta settings and sitemap management are sure to move you up in the search rankings.
Pricing: Starting at $5.95 per month
The Pop-Up Window app has mobile responsive pop-up windows and forms, and it integrates with services like Mailchimp and Klaviyo. Coupon codes are available, and you get other features like exporting, customization, frequency changes and typography options.
Pricing: Free to $5.99 per month
This app has advanced targeting and amazing customization tools by popping a coupon in front of customers who are trying to leave. For example, using Last Second Coupon, you could grab sales from abandoned carts and window shoppers.
Pricing: (Free trial for 60 days) Starting at $39.99 per month
This is the most robust recurring billing app with an onslaught of features. Customers can manage subscriptions from your website, while you can decide when to bill your customers. Along with bulk imports, major credit card integrations and multiple delivery options, the ReCharge app stands out.
Best Shopify Apps: 39. Data Export
Pricing: Starting from $5 per month
Data Export can help you report and analyze any data from your store. Hundreds of Shopify merchants use Data export for sales, inventory, refunds, tax, billing, fulfillment, accounting, payout and many more custom reports. Data Export can be used to create custom dashboard using Google Sheets.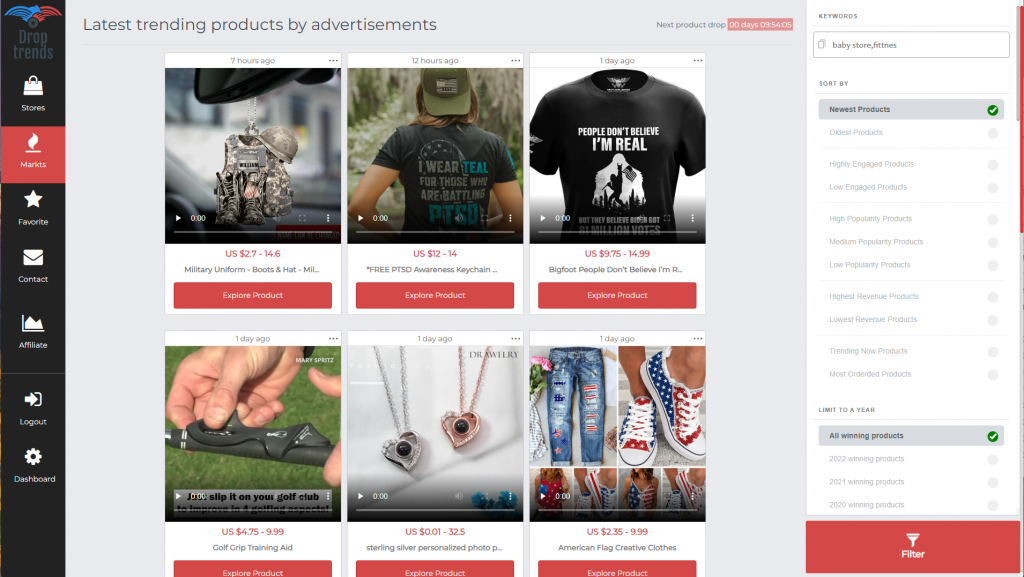 Best Shopify Apps: 40. Cross-Sell
Pricing: Starting at $19.99 per month
The Cross-Sell app puts you in control of what you'd like your relevant products to be. Instead of relying on an algorithm, you choose the related up sells based on complementary items and more information. You can specify how many cross-sells to show, and it lets you customize the text above the recommendations.
Pricing: Starting at $1.49 per month
The Social Login app links with services like Facebook, LinkedIn and Amazon to provide quick logins for your customers.
Pricing: Free to $49.99 per month
Generate galleries from Instagram, or make your own using the Covet.pics app. The shoppable galleries sell products directly from your photos, and you can curate the images from places like Instagram or your own custom photos.
Pricing: Starting at $4.99 per month
Correios is one of our favorite shipping apps, since it automatically shows customers shipping times and costs involved with each purchase.
Pricing: Starting at $29 per month
Here's an app that's ideal for stores with brick and mortar shops as well. You can offer in-store pickup, or customers can choose to have their products delivered locally. In addition, the Store Pickup + Delivery app provides in-store up-selling features.
Pricing: Free to $79.99 per month
Interested in bulk editing multiple product prices, product types, weights or descriptions? Bulk Product Edit allows you to edit by collection, keywords and other parameters. You no longer have to edit each product individually.
Best Shopify Apps: 46. Xero
Pricing: Starting at $5 per month
The Xero Shopify app exports your orders to the amazing Xero accounting program. This way you can see beautiful financial reports, create invoices and receive global tax support. Read more about this fantastic solution in our detailed Xero review.
Pricing: Free to $12 per month
For a more advanced live chat module on your site, the Tidio app lets you always remain online for chatting via mobile devices. You can send automated messages, change languages and view all users on your site.
Pricing: Free to $4.99 per month
This is similar to the Questions area on Amazon. The Product Questions and Answers app asks customers to post questions on a product page. When an answer is submitted it goes on the product page and sends an email to the customer.
Pricing: Starting at $9 per month
Whether you're offering services or large batch order for B2B clients, invoices come in handy. The Sufio app automatically sends the invoices for each order.
Pricing: Free plan available
Most Shopify stores come with contact forms, but this one has more to it. The Improved Contact Form app offers popup contact widgets and webpages, along with customizable form fields. Finally, the intelligent form tells you where customers are located before talking to them.
Pricing: Free to $19.99 per month
Speed up your site by compressing images automatically! The process is rather simple: Once installed, the Crush.pics app provides lossless compression for current and future images.
Pricing: Starting at $7 per month
We like the Exporter app because it exports data like customers, articles, sales stats and orders in one spreadsheet.
Pricing: Starting at $10 per month
Lucky Orange plays a video of users walking through your website. Combined with heatmaps, polls and form analytics, it gives you insights into when and why customers are leaving your site.
Pricing: Free
You should have a FAQs page on your Shopify store. However, there's no need to spend much time on it. Therefore, consider utilizing the HelpCenter app to make a searchable FAQ with beautiful articles, categories, and sections.
Best Shopify Apps: 55. Plug in SEO
Pricing: Free trial followed by $20 per month
There are few things more valuable to your online presence in today's growing digital landscape than the right Search Engine Optimization strategy. With SEO, you can convince your audience to pay attention to your company, by ensuring that you appear at the top of the search engine results for their most crucial searches.
With Plug in SEO, business owners can discover some of the easiest ways to boost their rankings and transform their Shopify store, without having to worry about figuring everything out for themselves. The tool covers all of your SEO, from rich snippets to blog optimization and more.
You can even use Plug in SEO to fix the meta titles that aren't driving enough traffic to your company, look for broken links, and update your descriptions.