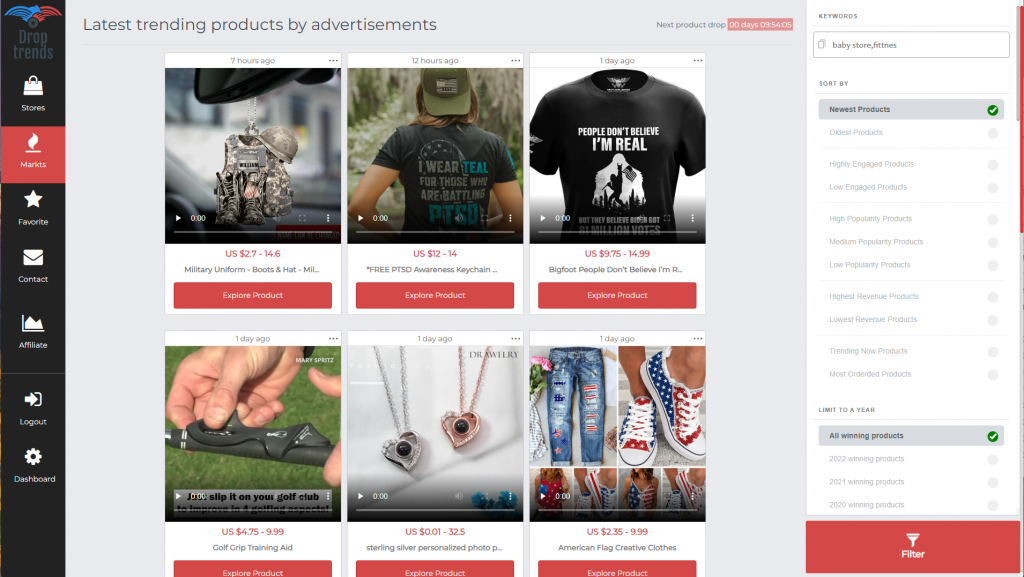 Let's discover the best Shopify themes!
The first name in the list of the best Shopify themes is Ella. Developed by Halothemes that makes awesome themes for BigCommerce, Shopify, and Magento, it is the best sellers item on Themeforest.
Ella gets a solid reputation as a drag-and-drop Shopify theme with incredible UI/ UX and Mobile Optimized layout. This Shopify theme offers store owners tons of well-designed, responsive, and eye-catching templates.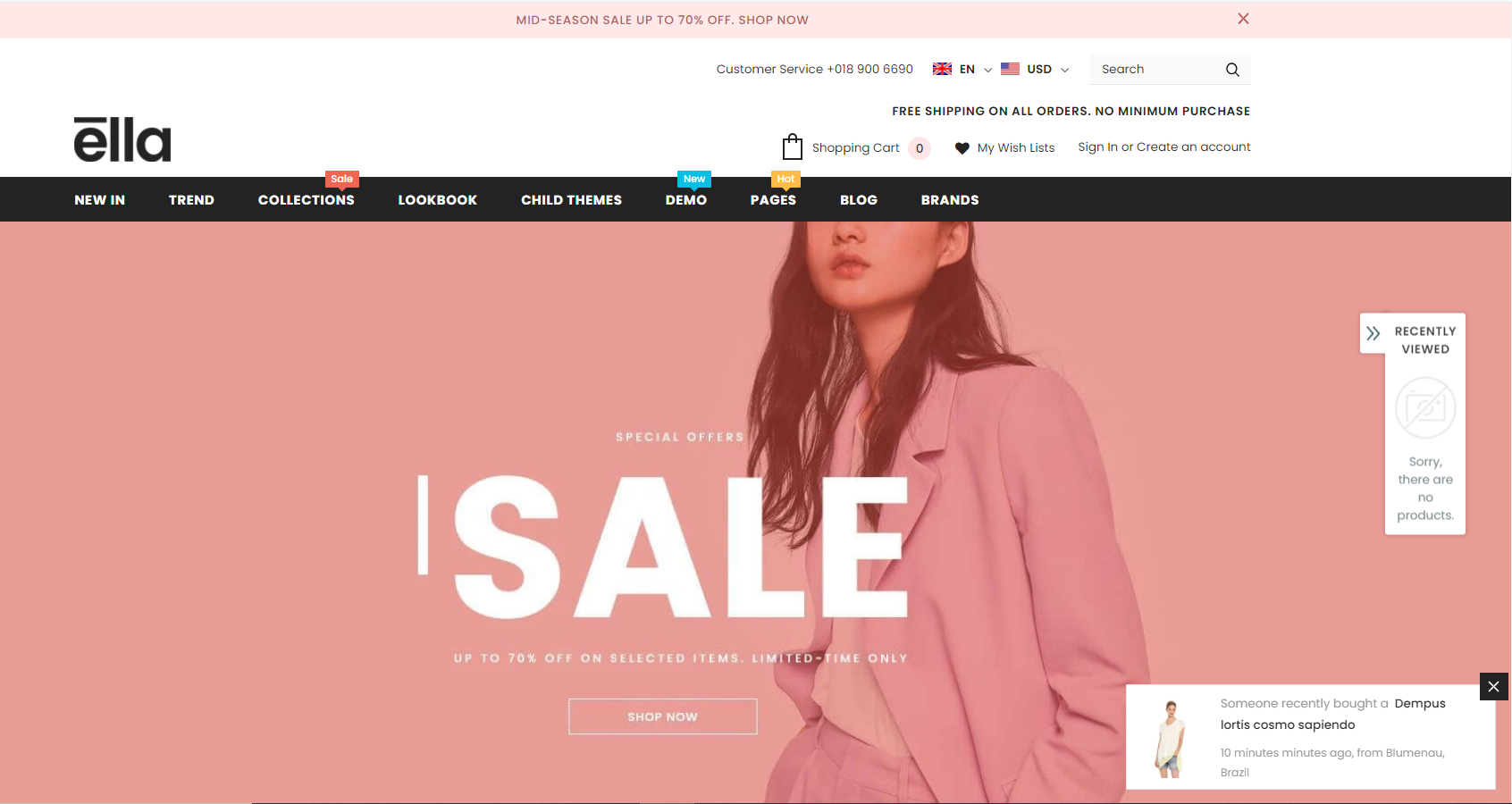 Price: Ella offers two licenses for users:
Regular License: $55
Extended License: $2800
The fees for extending support to 12 months for Regular and Extended License are $15 and $768.75 correspondingly.
Positive response: Ella has an average rating of 4.81/5 with 525 ratings.
Highlight features:
Drop-down list Shopping cart: The shopping cart block will appear when your shoppers click to the cart icon. Therefore, they can easily view their shopping cart status on any page they want without opening a new page.
New monthly themes: Besides updating the current themes frequently, Ella releases new Shopify themes monthly to satisfy your customers and keep your store looking new.
Gorgeous Child Themes: Child Theme is a theme that inherits all the features and functionalities from another theme called the parent theme. When you customize the parent theme, all the current functionalities are still kept in the child theme.
Lazy Loading: This is an optimized technique for online content that reduces loading time and memory usage. Your store shows product images in the product/category pages, so it's time-consuming to load the entire in the browser. Instead, Lazy Loading only loads the requested images and delays the remaining images until they are needed.
Interested in this feature-rich theme? Here is the detailed review of Ella Shopify theme.
Seeking for More Insights About Shopify?
Get FREE 1-1 CONSULTATION with eCommerce experts on how to grow your business in our upcoming event!
Minimal is one of Shopify free themes that has a well-deserved reputation for its user-friendliness and great customizability on the backend.
With a clean and simple interface, Minimal is an excellent choice for beginners or companies that want to decrease visual distractions and spotlight their products.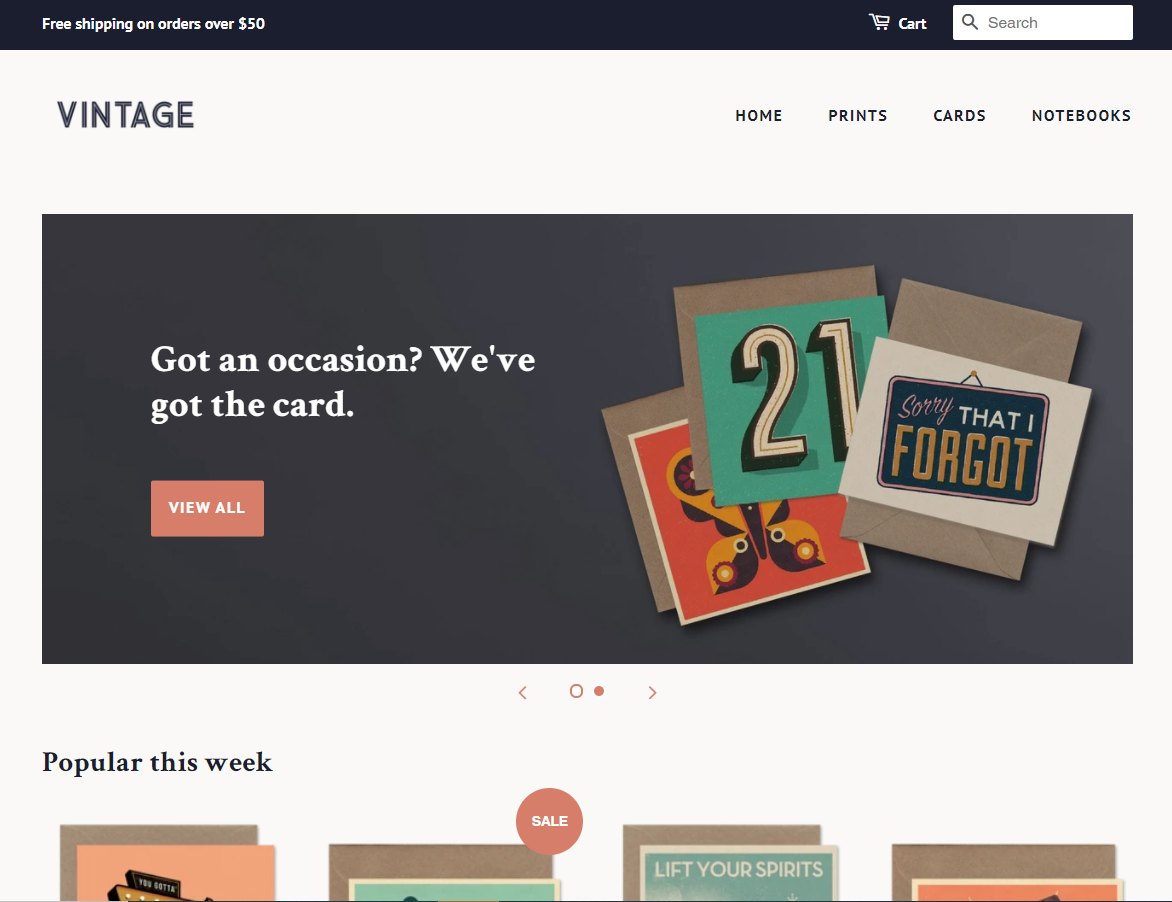 Below are the features that Shopify free theme offers Minimal users: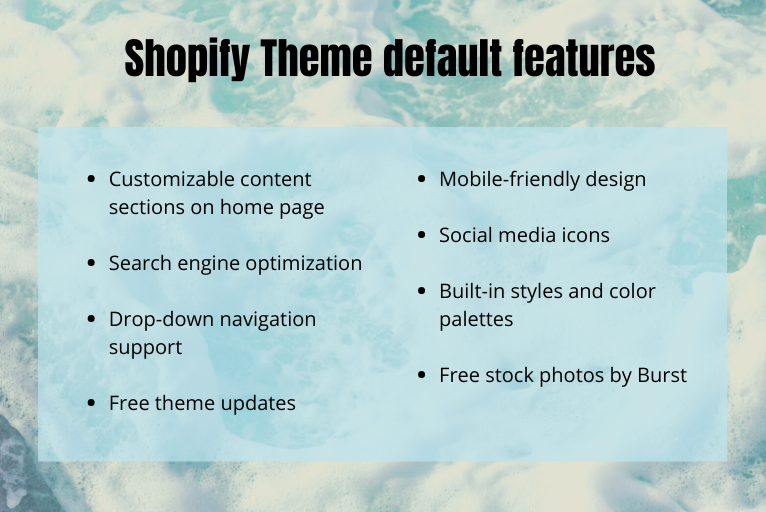 There is one notable thing is that the free Shopify themes which are available on the Shopify Theme Store all have the above features. So, in this article, we will shortly call these features by Shopify theme default features.
However, users praise Minimal as one of the best Shopify themes because of not only Shopify theme default features but also its following superb attributes.
Price: $0
Theme styles: 3 styles – Vintage I Fashion I Modern
Positive response: 84% (90 reviews in total)
Highlight features:
Home page video: The homepage is the first experience your customers have with your store and brand. Therefore, using a homepage video helps you craft a more delightful, positive experience for visitors while also driving conversions. Come to Minimal, this theme allows users to embed a video hosted on Youtube or Vimeo to the home page.
Product Image Zoom: Users prefer a website using zoomable product images. The reason is that they can easily visualize how your products look in detail instead of zooming the entire website.
Cart page: Shoppers can enter notes with their order on the cart page. Whereby, you can receive special instructions from your shoppers about how to prepare and deliver the order.
The Mysterio theme for Shopify is a powerful and flexible solution allowing you to build a top-notch online store for fashion and beauty. It is one of the advanced yet affordable Shopify themes from Zemez.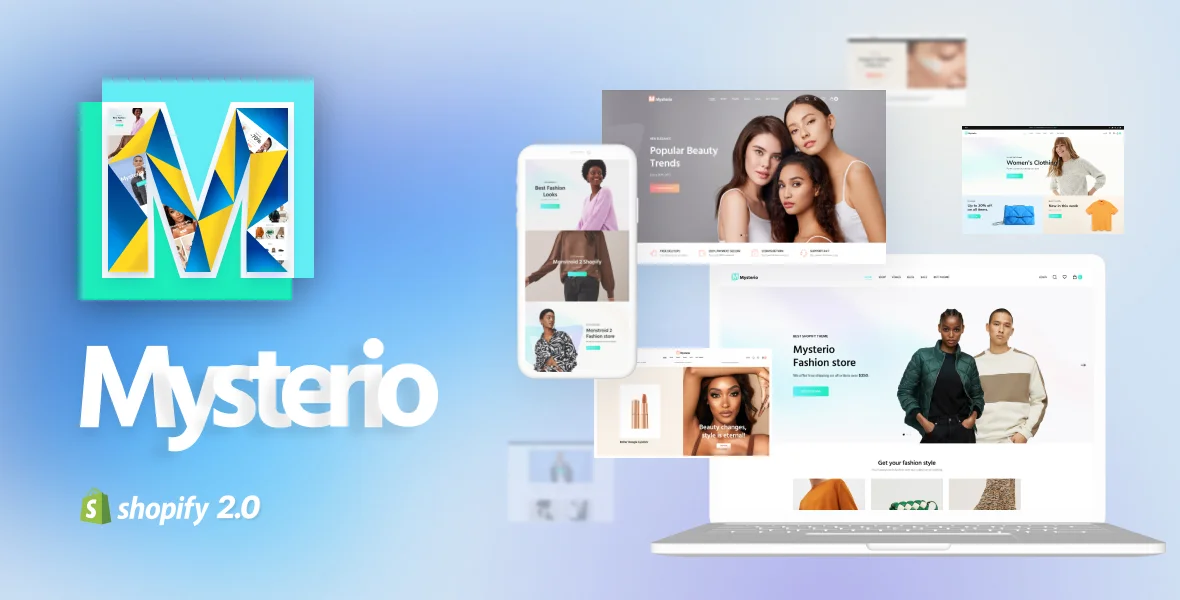 This theme was designed with not just customers but also the eCommerce trends in mind. Moreover, this solution is fully compatible with the latest version of Shopify, the Online Store 2.0. With a great number of new features and improved functionality, this update simplifies eCommerce. Both merchants and developers can benefit from it.
Price: $39
Theme styles: clean, minimalistic, and modern.
Highlight features:
Full support of Shopify apps;
Wishlist and product compare;
Shopify visual builder;
Shopping cart and quick view;
Dynamic blocks on the product page;
Call-to-action pop-ups;
Advanced media on product page (images, video, youtube, Vimeo, 3D models).
District is an incredible option when searching for one of the best Shopify themes 2022. If you want to showcase featured products and collections, District is a good selection.
Best suited for fashion & apparel and sports businesses, District has a gorgeous design with many functions to help customers see the finer details of your products.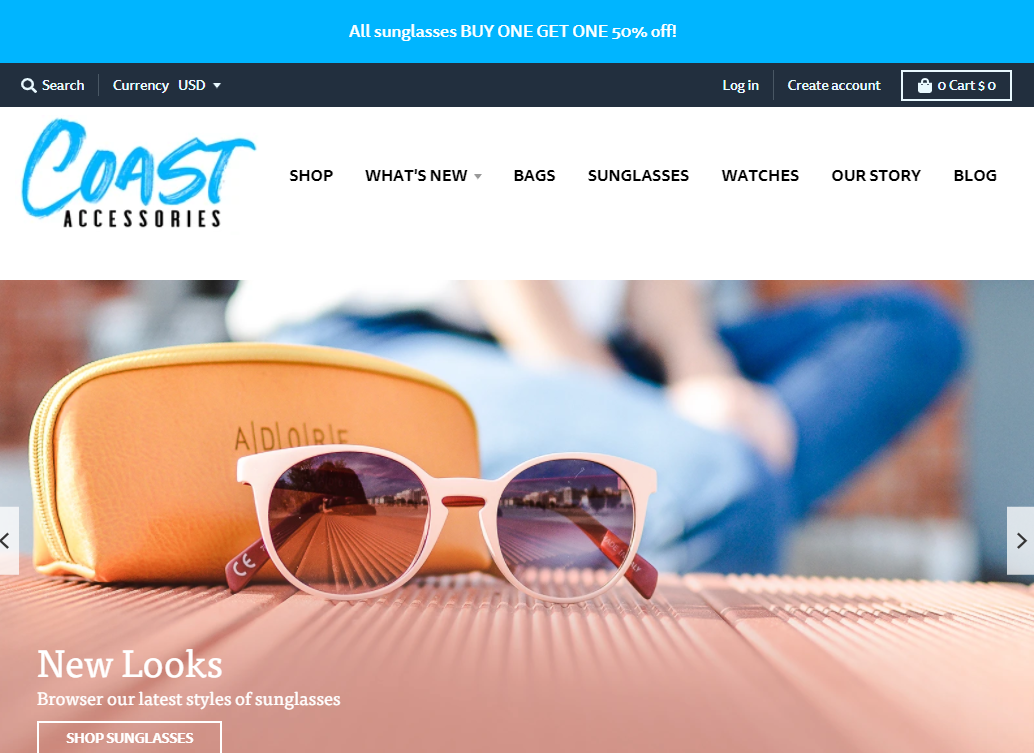 Price: $180
Theme styles: 3 styles – District I Energy I Coast
Positive response: 100% (592 reviews in total)
Highlight features:
Shopify theme default features
Marketing Email Popup: Popup refers to an ad displaying in a window on the same page. It helps you highlight relevant offers, products, or sales, build email lists, and recapture your customers' attention before they leave the page.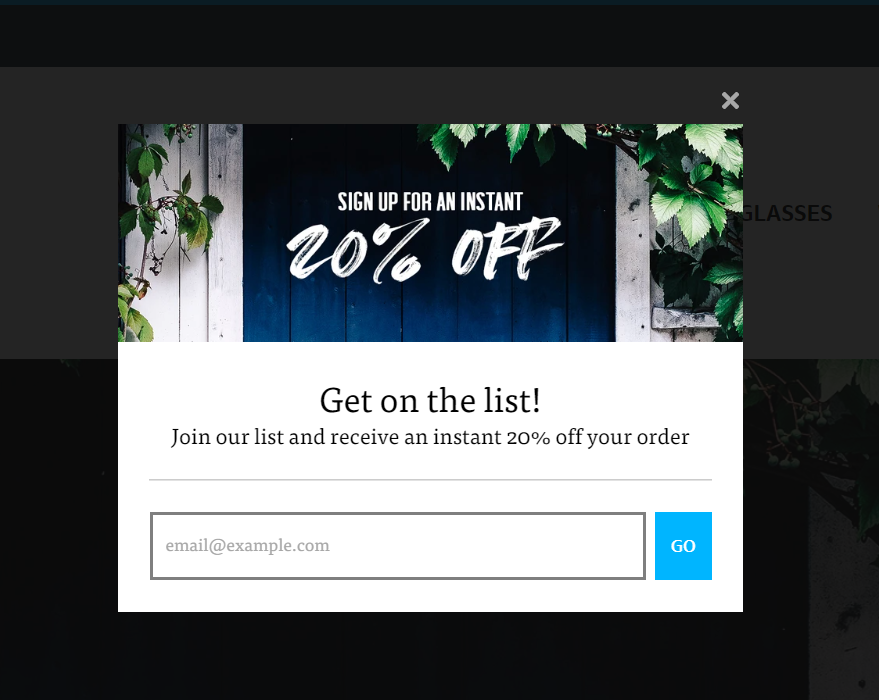 Color swatches: This feature allows shoppers to view a product in different available colors. Whereby, they can visualize how the product looks and choose the one they like more conveniently.
Dedicated support: Besides outstanding UI/UX features, responsive assistance plays an important role in making District become one of the best Shopify themes. If you have any questions, you can contact the support team and they will give you the best solution as fast as possible.
"The theme is incredible, easy to use, and you can get very creative with it. That's not even the best part. The Team behind it is awesome. You need help, they're on it and they communicate efficiently and quickly with you. Highly recommended, you can't go wrong.", reviewed Ember Loft on District Shopify theme review.
Vendy is a new-fangled Shopify theme for fashion designed to showcase your brand with sleek styling and smooth content integration. It offers varied pre-made templates for homepages, lookbooks, products, and other pages.
Stay assured that Vendy will help you create a stylish eCommerce site for selling clothes, shoes, accessories, etc. Plus, this Shopify theme is also a simple solution with a ready-to-use minimalistic design on the board. Even in years, this design will be relevant and your commercial proposition will be highlighted from the best side.
So, choose Vendy, as only now it goes under the discount!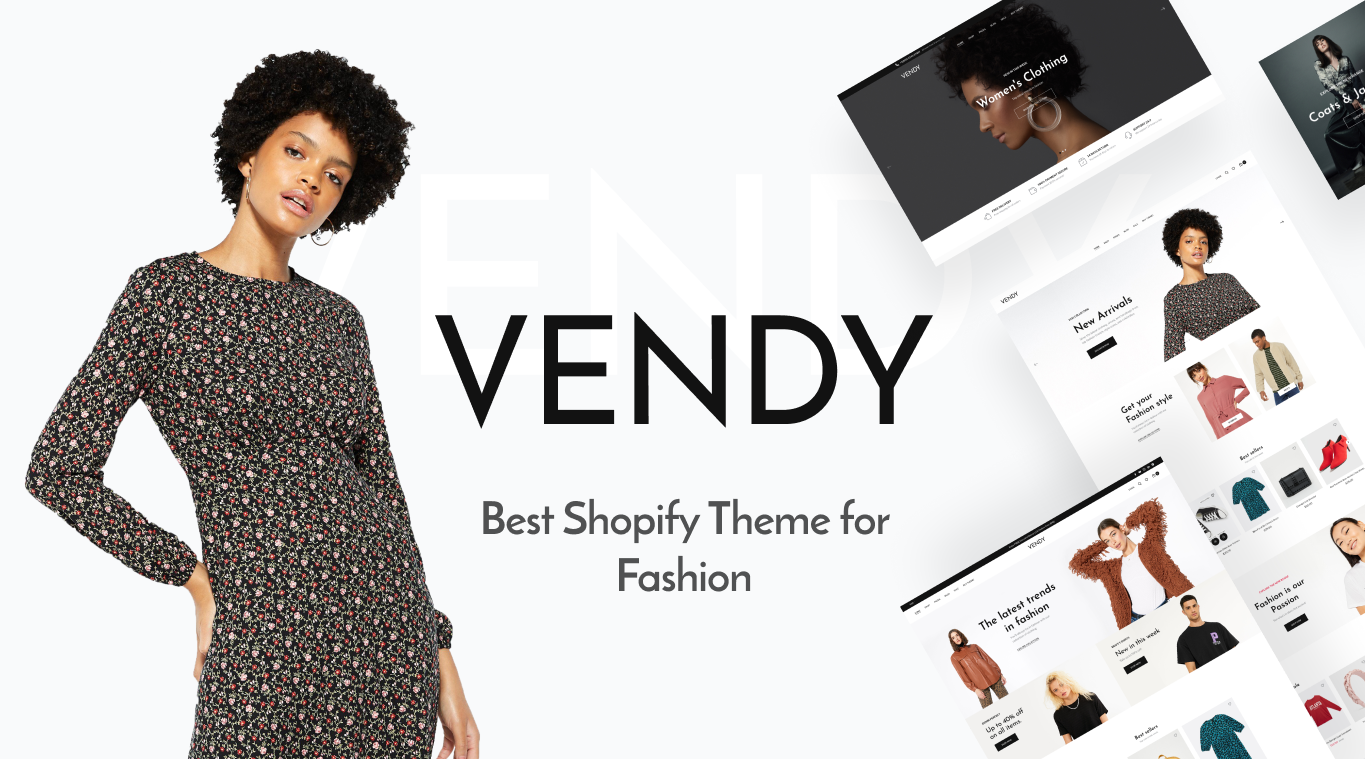 Main features:
Light-weighted and speedy
10+ Homepage layouts
Lookbook fashion pages
Size guide pop-up and page
SEO- and mobile-friendly
Need Help To Migrate Your Store?
If you are intending to migrate from Magento to Shopify, LitExtension offers a great migration service that helps you transfer your data from the current eCommerce platform to a new one accurately, painlessly with utmost security.
MIGRATE MAGENTO TO SHOPIFY NOW
The Roxxe Shopify Multipurpose Theme is designed with current trends and user comfort in mind. It's provided with a powerful navigation search module that comes in handy over 70 pre-designed layouts with ready-made sections.
They all are open for your changes and enhancements. You can quickly create a store from one of the most wanted demos for online businesses and then customize your content from there.
Besides, Roxxe shows off skins for selling clothes, cosmetics, accessories, and others. Moreover, Roxxe works in conjunction with Shopify's Visual Builder letting you create as many pages and other web forms as you like.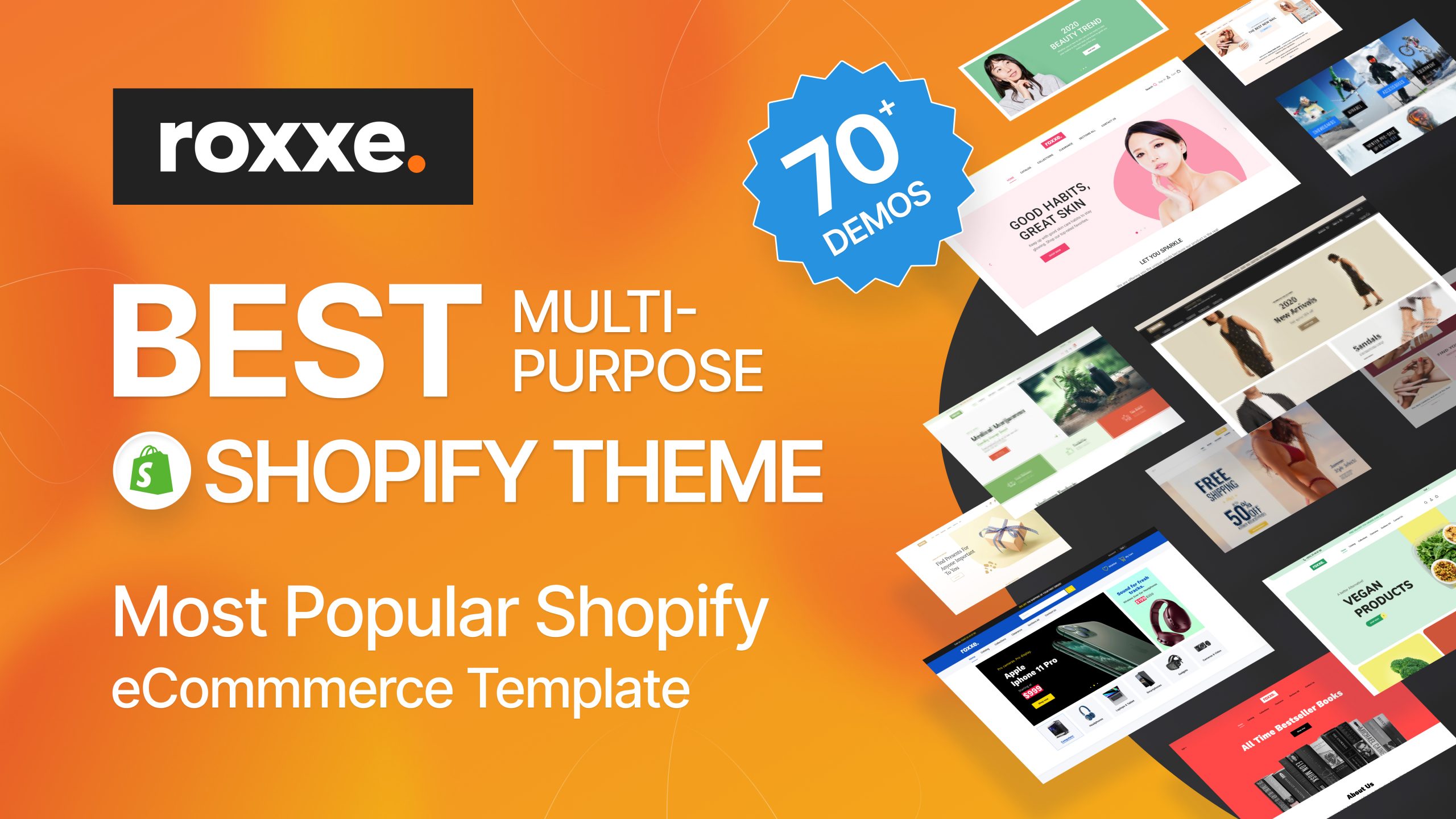 More perks of Roxxe:
Official Shopify app integration
Unique store demos
Customizable headers and footers
Collection of catchy banners
Various pop-ups
Responsive is a sensational option for those in search of the best Shopify themes. This website template will be a great assistant for the store owners who are running houseware, home, and garden businesses. With this theme, you can show how your products fit the shoppers' house space.
Responsive is a product of Out of the sandbox, a well-known third-party Shopify theme. Users review Responsive is a technically robust and flexible theme that looks sharp across devices. What's more, its high customizability allows you to make changes to the layout, typography, and featured promotions.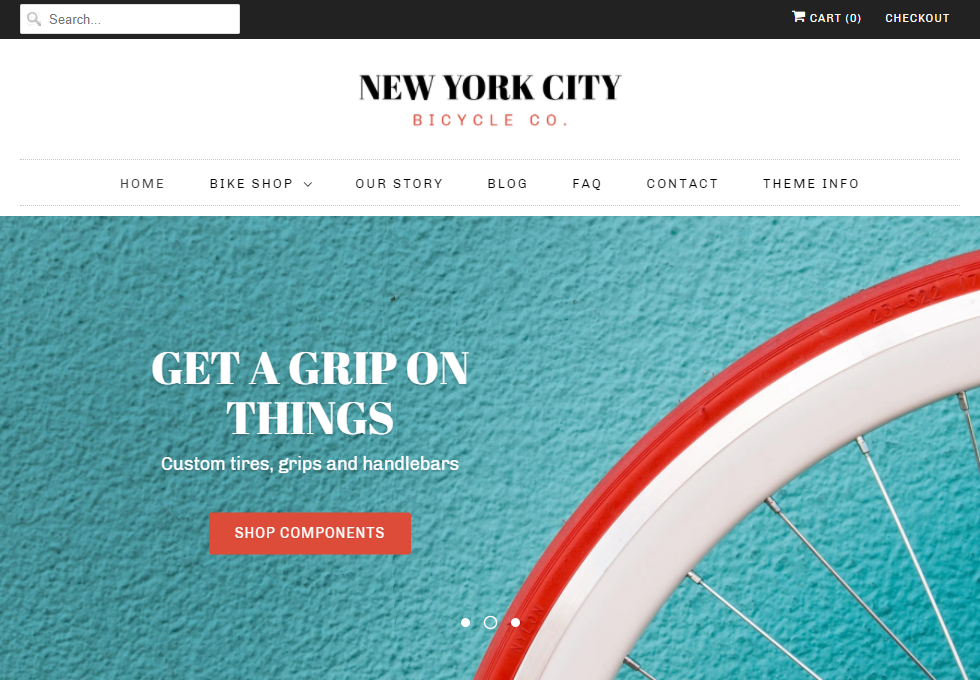 Price: $180
Theme styles: 4 styles – London I Paris I New York I San Francisco
Positive response: 98% (296 reviews in total)
Highlight features:
Shopify theme default features
Versatile Sidebar: Responsive displays menus, a search bar, and other content on collection and blog pages in a switchable sidebar.
Currency conversion on the top on the menu bar: Your shoppers who are not in the U.S will find it is easier to check your product price in their currency.
Instagram Feed: You can also link your Instagram account to the Shopify account. Therefore, Instagram will display your latest posts in the news feed. This feature helps increase social proof and provides a way to gain new followers and fans.
Wide layout: Responsive allows you to display full-width slideshows and centered focus on the menu navigation.
Another premium nominee in the list of best Shopify themes is Testament. It is developed and supported by We Are Underground, one of the top 5 theme developers in the Shopify theme store. Till now, Testament has powered more than 9.300 Shopify websites.
This theme proves itself as the best Shopify theme for different industries thanks to its awesome customization ability. However, Testament most suit the healthy and beauty businesses. Indeed, the customers in these industries usually want to envision how your products improve their looks and health levels. And this is what Testament has you covered.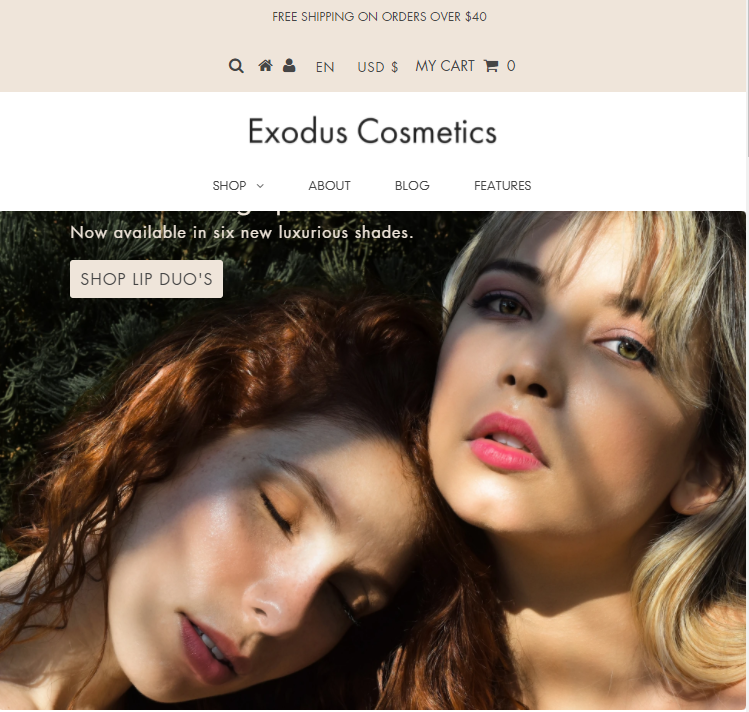 Price: $180
Theme styles: 4 styles – Genesis I Exodus I Revelation I Deliverance
Positive response: 96% (266 reviews in total)
Highlight features:
Shopify theme default features
Step-by-step Documentation: Testament provides detailed guidance including animated steps and lively video tutorials. This guide is a fertile source for you to customize your Testament theme.
Product quick view: Shoppers can easily view your product details in a popup without leaving the current page. This feature can increase the time on page, which surely boosts your conversion rate.
Sticky navigation: Your menu bar is fixed to the top of your page as you scroll down. As a result, it is useful for your online shoppers when they want to move to another section of the page without having to scroll up.
Need Help To Migrate Your Store?
If you are intending to migrate from WooCommerce to Shopify, LitExtension offers a great migration service that helps you transfer your data from the current eCommerce platform to a new one accurately, painlessly with utmost security.
MIGRATE WOOCOMMERCE TO SHOPIFY NOW
When you're looking for the best Shopify theme, Icon has the awards to prove its features. Icon is wonderful for visually striking brands with image-focused content. Therefore, it is most suitable for those who are running art and photography businesses.
Similar to the Testament, Icon is a product of We Are Underground. However, this theme has its own outstanding features that hold the key to its enviable reputation. Apparently, Underground packs Icon with many features that empowers Shopify store owners to create conclusive and particular experiences with ease.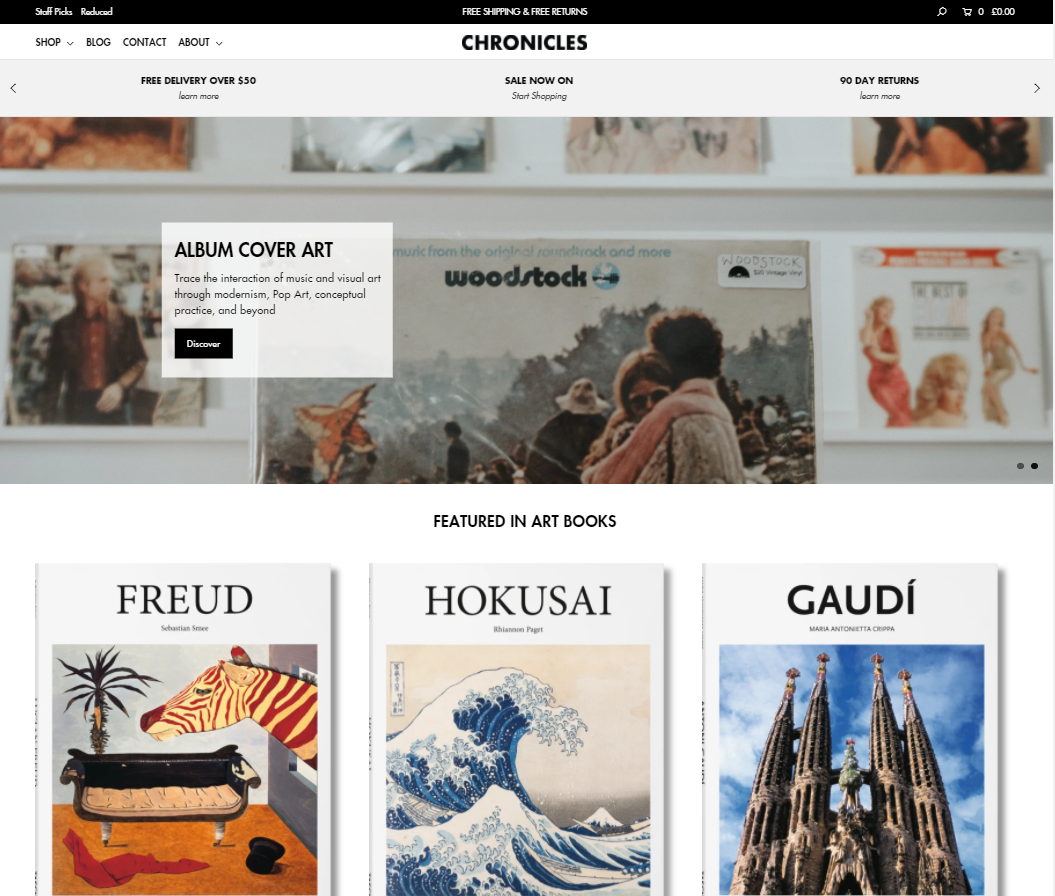 Price: $180
Theme styles: 4 styles – Dolce I Christian I Yves I Vera
Positive response: 94% (225 reviews in total)
Highlight features:
Shopify theme default features
Parallax Scrolling: This technique creates an animated depth on a website by making the background images move slower than the foreground images when the shoppers scroll down the page. Today, Parallax Scrolling is becoming a trend for its great ability to improve UX efficiently.
Google Web fonts: As a theme best for art businesses, Icon offers huge fonts to bring the best experience to your customers. You can choose a font that is suitable for your objectives to design a creative and unique store.
The Shella fashion theme is specifically designed for various kinds of merchants including eCommerce stores. This super responsive theme is greatly designed to attract online shoppers.
Giving your online store a look that keeps new visitors scrolling to see more is one of the keys to creating an online business that thrives. Shoppers looking through fashion brands are heavily influenced by your store's visual appeal. Shella's premium Shopify theme for fashion stores comes with all the features you normally use from Theme Forest and others that make it even better. With it, you can use fashion icons, banner builders, true collection filters, and many more features to personalize your brand.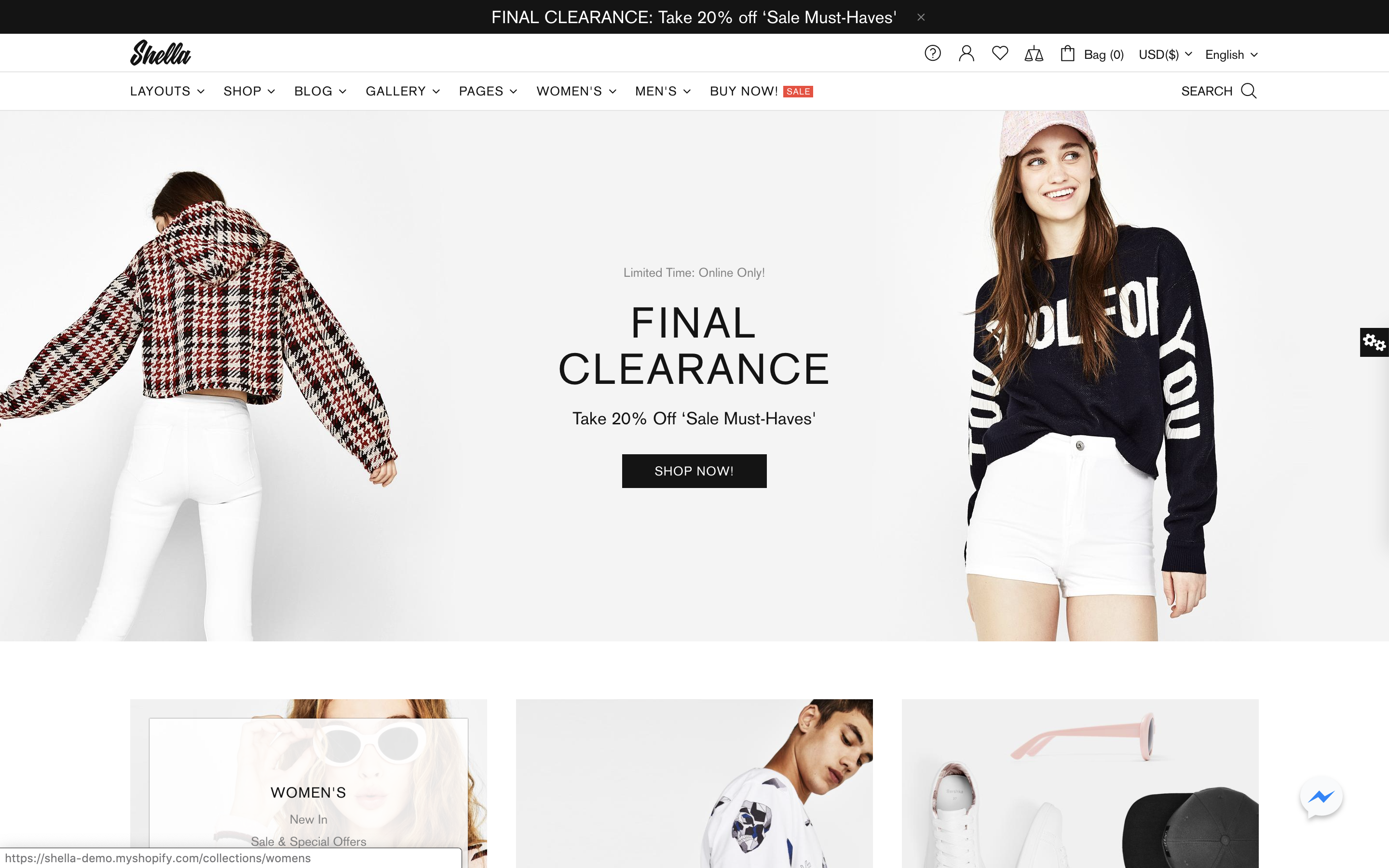 Price: $79
Theme style: Fashion
Review: 93% (169 reviews in total)
Highlight feature:
Optimize your site for SEO: Shella gives you the tools to optimize for your niche so that you can attract more customers that will actually turn into conversions. It even comes with Google rich snippet support that will make your site more attractive on SERPs. Shella theme is tested by MOZ SEO tool to ensure you get it right.
Smart features for a responsive UI: Shella has incorporated a number of handy elements that make it a pleasure to use. First off, the UI is fast and responsive with sophisticated design elements. On the merchant's side, features such as the Section Builder and Slate make it exciting to tinker with the theme.
Numerous pre-built pages: With endless colors and over 68 pre-designed pages, it's not hard to see why the Shella Theme would be your choice.
High page speed statistic: A speed score of 89 means your store is faster than a large number of other stores on Shopify.
Wokiee is a multipurpose Shopify theme on Themeforest. Envato Tuts+ indicates that it is the best one in 20 Best Shopify Themes With Beautiful eCommerce designs.
Wokiee is an ideal solution to make your website look professional, creative, and more attractive. With Wokiee, you can create different arrangements to meet the needs of your customers.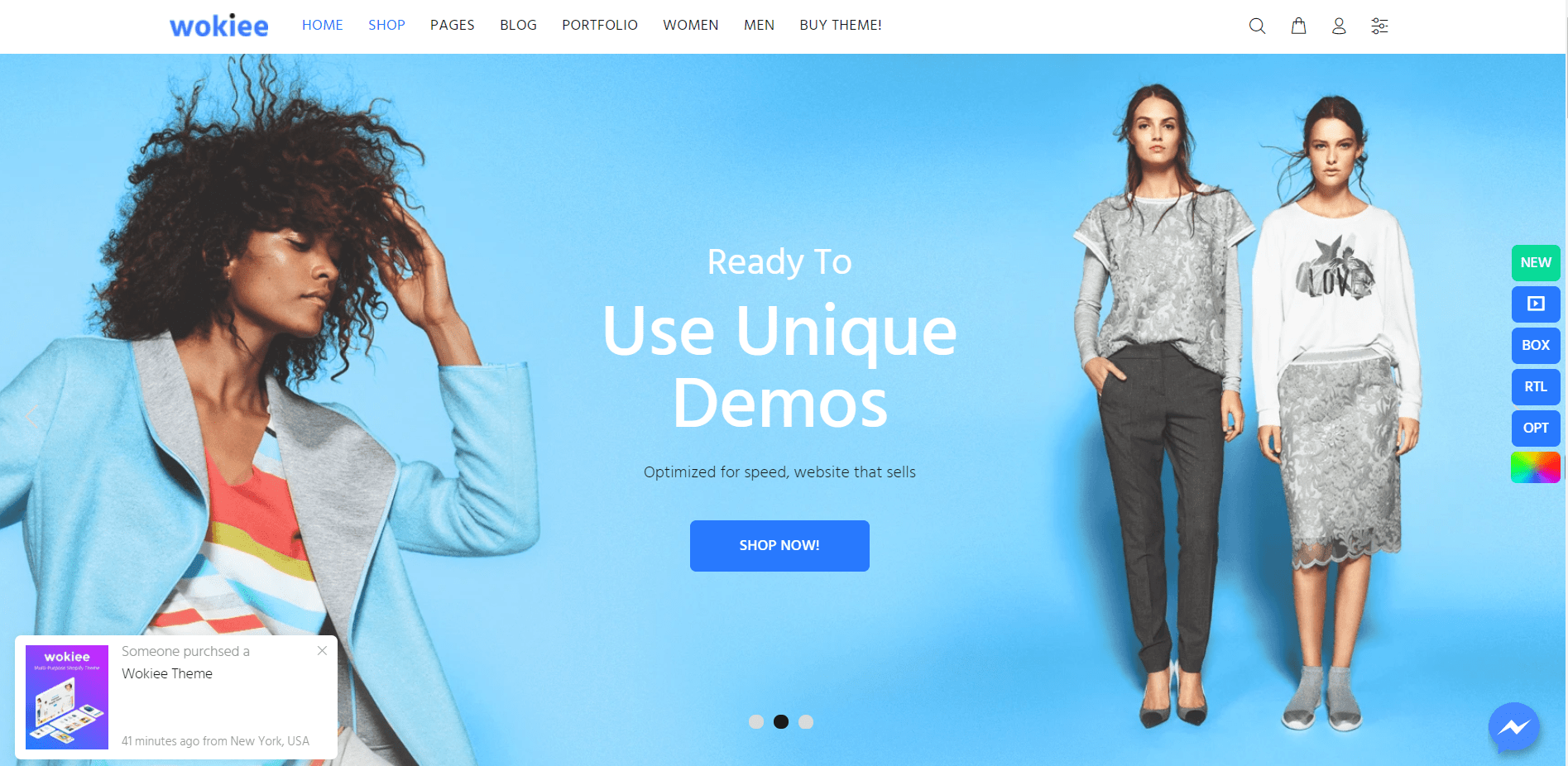 Price: Wokiee offers two licenses for users:
Regular License: $59
Extended License: $1750
For Regular License, you can use the theme to create a single website for yourself or for one client, and the website content can be accessed for free.
On the other hand, for an Extended License, you can use the theme to create a single website for yourself or for one client, and you can charge people for accessing the content.
The price includes 6 months of support. If you want to extend the support to 12 months, you need to pay an extra $16.5 for a Regular License and $375 for an Extended License.
Positive response: Wokiee is Best Rated item on Themeforest
Highlight features:
Variety Homepage layouts: This theme currently offers 70 stunning homepage layouts for you to choose the best one that suits your kind of business. It uses motion graphics to show a quick view of all 70 demos on a page.
Multiple header options: Currently, Wokiee offers store owners 8 options of navigation design that are easy to use and beautifully-design.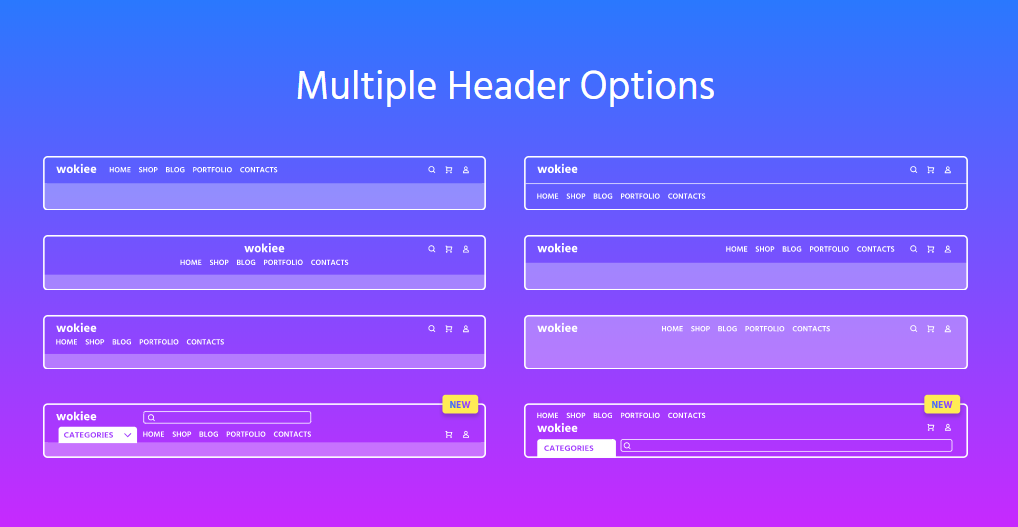 eCommerce features: Wokiee provides a lot of useful features to help users satisfy their customers. For example, Color/ Size/ Material swatches features allow shoppers to envision your product not only in color but also in its available materials. Thanks to Google Rich Snippet Tool, it's far easier to create great content to get higher rankings on the search engines.